On Friday night, once again, as they had for the Welcome Dinner, DQ Times members gathered in the Renaissance hotel for the official Member's Party. Attendance was high for this event as almost all members attending the reunion events had now arrived and were eager to become reacquainted with old friends and meet new ones.
Amidst cries of "I can't believe we are finally meeting each other!" and "It's been so long!" a special 'guest' popped in to say hello - Dr Quinn's own, Jennifer Youngs. Sounding just like her Dr. Quinn alter- ego- Ingrid, Jen greeted everyone with a cheery hello promised to see everyone the next night at the dinner and left moments later, appreciative applause following in her wake. Later, Pam as emcee of the event, made a few announcements regarding door prizes and raffles. Among the raffle items was a canvas bag of Dr Quinn 'goodies' donated by A&E Television, which included the bag itself as well as all 3 seasons of the DQ Quinn dvd series, some Dr Quinn T- shirts and a special Dr Quinn mug. Tickets were also sold for a chance to win one of Jane Seymour's victorian dolls from her collection, a blouse worn by Jane herself as Michaela during the Dr Quinn series,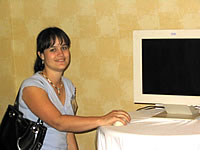 and a Dr. Quinn yearbook. DQ Times staffers went from table to table selling raffle tickets while members roamed about the room taking photos and introducing themselves to one another.

The highlight of the evening was to be a special video presentation- a Dr. Quinn music video compiled by DQ Times staffer, Dianne Bennett. True to Murphy's Law, Dianne was there, the video was there, but alas the audio visual equipment was not! A call to the company confirmed everyone's fears- despite repeated confirmation calls prior to the event by Pam, the equipment hadn't arrived in time. Dr. Quinn fans however, are nothing if not resilient and moments later plan 'B' was put into effect. A laptop was produced and the video show went on as planned, albeit on a 17 inch screen! After a montage of Michaela and Sully's finest moments and a hilarious clip of Orson Bean and Jim Knobeloch in drag set to music, the technical glitch was all but forgotten as once more that special feeling of 'coming home' that settles over any gathering of Quinn fans took over.